Free Things To Do in Edinburgh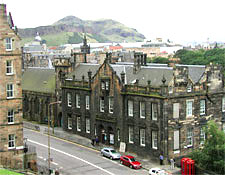 Some of Edinburgh's most famous attractions are free. Get ready for some serious museum visiting!
Free Attractions
Edinburgh's foremost sight is the castle. There is an admission fee to get on in there. However, it is free to see and can be seen from most points in the city. It is on this really big hill, after all.
The National Gallery of Scotland does not charge an admission fee to enter. Monet and Titian are some of the major artists tourists can take in. The Scottish National Gallery of Modern Art holds a 20th and 21st-century mix of talent including Picasso and Mondrian.
The Museum of Scotland is essential for any kilt-wearing Scotophile. A modern interpretation of castle architecture houses a fascinating exploration of Mac-history.