Free Things To Do in Innsbruck
The best first thing to do in this town is to walk around and soak up the medieval atmosphere.
Free Attractions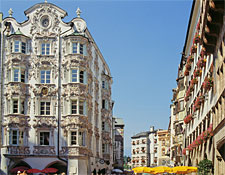 Antique streets and covered walkways are free to see. Check out the Goldenes Dachl, Golden Roof, on Herzog Hofgasse. The Hofkirche (The Imperial Church) is another place where crowds gather free of charge. Check out the 28 giant statues of the Hapsburgs with a special attraction being Kaiser Rudolf's codpiece.
In the same neighborhood sits the Hofgarten. This is the city center park and the perfect place to rest your feet and maybe get a drink at the café in the name of the park.