Helpful Information: Helsinki
These links provide helpful tips for visiting Helsinki.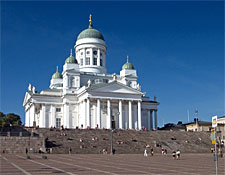 City of Helsinki
Colorful columns help tourists navigate the City of Helsinki's site.
Helsinki-Vantaa
A great site for a little airport with class.
Airport Taxi
Need to take a taxi into Helsinki from the airport? Look no further.
HKL HST
See what time it is in Helsinki and then familiarize yourself with the public transport system.
Helsinki.fi
A daily listings site for everything that's going on.