Bordeaux City Transportation
Bordeaux is small enough to enjoy on foot, though the city has both a bus and a tram system.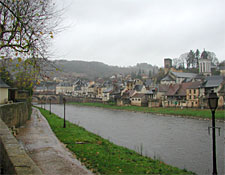 Walking
Bordeaux hosts many wonderful walking tours. The city is small enough to enjoy by foot and at your leisure.
Tram and Bus
Inaugurated on December 21, 2004, the Bordeaux tramway is made up of 10 kilometers of track. It's virtually silent and environmentally safe. The Bordeaux bus system serves the whole city. Tickets can be used for both modes of transportation.
More information at: http://www.infotbc.com/.
Tram and Bus Tickets
One trip: €1.40

One tram and bus combination: €3

Five trips: €5.20

10 trips: €10.30

Seven days: €10.10
Airport
Information at: www.bordeaux.aeroport.fr.
Note: All prices were accurate when compiled. Please check the Web sites listed for the most up-to-date information.