Easy Palace
Editor's Pick
Hotel Address
Mozartstraße 4
Munich, Germany
Average guest rating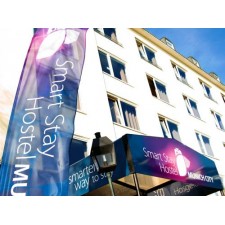 Check Rates for

Easy Palace

Checking Rates for

Easy Palace

No availabilityLowest price:
EuropeanHostels is currently checking rates for your dates

The Basics: Easy Palace email this page
In 2003, a luxury hotel was transformed into a hostel called Easy Palace. Guests can chose between dorms and private rooms, and have access to the hostel's restaurant, bar, and guest kitchen. Other amenities include Internet access, laundry, linen, towels, lockers, and a common room. No curfew.
Average Guest Ratings
Our users' reviews
"Great Hostel on Mozartstrasse (NOT across from the train station)"
Munich is one of the best "base cities" anywhere in Europe. Franz Josef Strauss International Airport is just outside Munich with frequent and efficient train and S-Bahn transportation into the city. The Munich Hauptbahnhof has direct trains to almost anywhere in Germany, indeed, most of Europe. The city has one of the best U-Bahn (subway) and S-bahn (light rail servicing the suburbs) systems in the world. Austria and the Alps are close (you can see them on clear days), Regensburg, Augsburg, Nürnberg, and Stuttgart are all less than 2 hours by train. What could be better? How about a very inexpensive hostel (14.50 euros per night for an 8 bed dorm in Nov. 2008) large, clean rooms with clean ensuite toilet and bath/shower facilities, comfortable bunks, pre made-up beds, excellent breakfast in a restaurant next door (not included), small, but efficient elevator, small lockable lockers in room for valuables (padlock needed), small guest kitchen and lounge on the 4th floor, small bar with reasonable prices, internet and WiFi facilities, bus stop (#58) within 50 meters, U-bahn (U3 and U6) within 100 meters, and within walking distance of the old city. Add to that a movie complex that is right on the corner and behind the McDonalds (that's right, a McDonalds right on your doorstep). Other amenities include the location in a residential area (quiet), Aldi, drug stores, and numerous eating establishments close-by, and the Paulaner Brewery Gasthaus (top-notch Bavarian fare) within walking distance. I have stayed at the Easy Palace multiple times. I have also stayed at most of the hostels close to the Hauptbahnhof and always go back to the Easy Palace. It is a third less expensive and the rooms are larger and cleaner and the neighborhood is much more quiet and less seedy. Getting there is simple: take bus #58 from the train station and get off at "Goetheplatz" (the announcement will sound like "gurtaplatz"). Get off the bus and walk straight down Mozartstr. past the McDonalds to the hostel. Last, the hostel staff is super, among the best I have met in Europe. Besides being among the most friendly, they are also very knowledgeable about the city and the best places to go (not necessarily the most popular, but still the best). I appreciate them more every time I stay there. "Thanks guys. You're the best!" The only negative that I have heard is their "key" system. There is only 1 key to the room. As long as there is one person in the room, the key is also in the room. When the last person leaves, they turn-in the key to the desk. When guests return they ask if the key is at the desk or in the room. Some say that the system is inconvenient, but there are no keys running around Munich looking for thieves. It makes the guests and property more safe. This is a very safe hostel in all ways. I think it's the best!
"Great Hostel!"
My friend and I stayed here 1 night in a 6 bunk female room. It was clean and quiet. The lounge area was a fun hang out & the employees made great recommendations for what to do & where to eat. Our only complaint was that we had to lug our bags up 4 flights of stairs because the lift was out.
Amenities
Hotel
Bar/Lounge
Bicycle Parking
Bike Rental Available
Breakfast Available (charge)
Children Friendly
Credit Card Payment Accepted
Elevator/Lift
Fax Available
Guest Kitchen
Internet Station Available
Laundry Service
Luggage Storage
No Curfew
No Lockout
No Smoking in Hotel
Parking Available
Reception: Always open
Restaurant
Storage Lockers
Swimming Pool
Taxes Included in Price
Wi-Fi (available)
Wi-Fi (Free)
Room
Heat in room
Key Card Access
Linen/Bedding Included
Rooms with private bath
Safe in room
Towels
About the Easy Palace neighborhood
It's hotel central south of Munich's train station, with plenty of accommodation options lining the streets. The area directly around the station is also home to sex shops and a slightly sketchy scene, though further south things get quieter and more high-brow.