Free Things To Do in Siena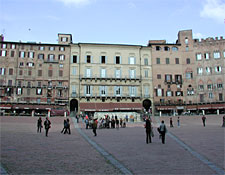 Siena is full of architectural delights that cost nothing to view. Read on for some examples.
Free Attractions
This is where the color 'burnt siena' got its name and you will see as you walk around why it is so artistically inspiring. However, there is more beauty to this city than just the color.
The scalloped Piazza del Campo has been a city marker for 700 years and it's still pretty fantastic. The base is the Palazzo Pubblico, the town hall. Admission is not free. However, you can enjoy the building's Gothic beauty from the outside. The city's Duomo is another sample of this city's Gothic mastery. Begun in 1196 and put off because of the Black Death.
If old stone isn't gothic enough for you, go further with a viewing of a saint's head, namely St. Catherine. Head, (ha, ha), to the Chiesa di San Domenica and then the Santuario di Santa Caterina and see the heady display at the latter site.