Belgravia Hotel
Hotel Address
118 Ebury Street Belgravia
London, United Kingdom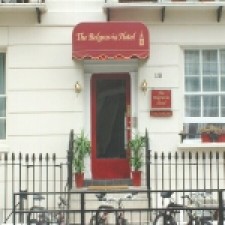 Check Rates for

Belgravia Hotel

Checking Rates for

Belgravia Hotel

No availabilityLowest price:
EuropeanHostels is currently checking rates for your dates

Hostel Description email this page
Located in the neighborhood of the same name, the Belgravia Hotel offers super-basic rooms with TV and coffee and tea making facilities. Rooms are available with private or shared bathrooms. Internet access is available in the common room. The hotel is a short walk from Victoria Station.
Our users' reviews
"Bare essentials"
Room is extremely small, bathrooms are ok, kitchen area closed at 8pm on a saturday night??? Overall if you just want a place to sleep its ok.
More Information
Hotel Address
118 Ebury Street Belgravia
Belgravia, London, United Kingdom
more information
Amenities
Hotel
Breakfast Included in Rate
Children Friendly
Concierge/Booking Services
Luggage Storage
No Smoking in Hotel
Reception: Always open
Swimming Pool
Tourist information
Wi-Fi (available)
Wi-Fi (Free)
About the Belgravia Hotel neighborhood
Near Buckingham Palace on the west end of London, Belgravia is a sophisticated residential hood with a fare share of shops and restaurants. A few hotels are to be found in this quiet, leafy hood.