Meininger City Hostel & Hotel Wien
Editor's Pick
Hotel Address
Columbusgasse 16
Vienna, Austria
Average guest rating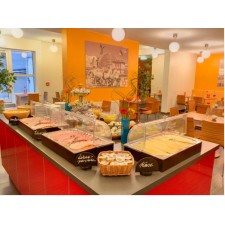 Check Rates for

Meininger City Hostel & Hotel Wien

Checking Rates for

Meininger City Hostel & Hotel Wien

No availabilityLowest price:
EuropeanHostels is currently checking rates for your dates

The Basics: Meininger City Hostel & Hotel Wien email this page
The Meininger City Hostel, part of the Meininger hotel chain, is located just south of the city center and boasts mixed and single-sex dorm rooms with loads of on-site amenities.

Private singles and doubles are also available, all with their own bathroom, telephone and TV. Dorms share facilities and have linens included.

Now for those extras: The hostel has an "M-Bar and M-Lounge," game room with billiards and a PlayStation, guest kitchen and Internet terminals. If you get tired of the table tennis and karaoke scene, you can head over to the nearby Favoritenstrasse, Vienna's famous shopping mall.
Average Guest Ratings
Our users' reviews
"Great place for a great price."
This place was way better than what I expected for what I paid. It was totally inexpensive, the rooms were the best I've seen around. The breakfast, though not included, was quite inexpensive and awesome. I'm gonna try and stay at Meininger again wherever there.
"A clean efficient hostel but definitely not for everyone"
This hostel is only for those who don't want to experience the nightlife of Vienna. If you like to go to bed early and get up early then this is definitely the place for you. The hostel mis-represented itself in advertising, it said it takes anyone, this is not true. It is only for families, school trips and people who like to get lots of sleep on holiday
"A very nice new hostel with improvements to be made to the service"
The hostel itself was lovely, brand new and basically felt like a travellodge or similar that you would get in the UK. The 5 bed dorm I was in was exceptionally clean as was the en-suite shower room, WC and bed linen. Breakfasts were lovely each morning. On the bad side though, when I checked in there was an error made and I was initially charged too much (double what I was expecting!) and it took most of the afternoon to sort it out. Staff were nice but not particularly concerned with sorting things out quickly and efficiently - the manager insisted in instructing a young member of staff to carry out the refund to my card when he could have done it in a quarter of the time. Also, I had booked into and paid for a minidorm for four people but ended up in a dorm with 5 in total (which again should have cost me less but didn't)
More Information
Hotel Address
Columbusgasse 16
Favoriten, Vienna, Austria
more information
Amenities
Hotel
Bar/Lounge
Bicycle Parking
Bike Rental Available
Breakfast Available (charge)
Children Friendly
City tour
Conference room
Credit Card Payment Accepted
Elevator/Lift
Fax Available
Free Newspapers
Gift shop
Groups Welcome
Guest Kitchen
Internet Station Available
Laundry Service
Luggage Storage
No Smoking in Hotel
Office Center
Parking Available
Pet Friendly
Reception: Always open
Storage Lockers
Tourist information
Vending Machines
Wi-Fi (available)
Wi-Fi (Free)
Room
AC in room
Extra bed available
Handicap-Access Room Available
Heat in room
Internet Access Available
Key Card Access
Linen/Bedding Included
Radio in room
Rooms with private bath
Safe in room
Telephone
Television
Towels
About the Meininger City Hostel & Hotel Wien neighborhood
Located on the south side of the city, the Favoriten hood is home to many residences and leafy parks.