Lyon City Information
Understand Lyon's layout before you get there with our simple guide to the city and its hostels.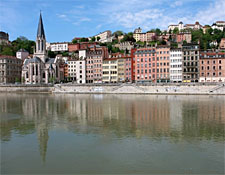 City layout

Lyon is divided into nine arrondissements. The I, II and IV arrondissements are within the Presqu'ile, the strip of land between the Saone and Rhone rivers. The first of two pedestrian streets is rue de la Republique, Ôla Re', running north to south from Place de la Comedie to Place Bellecour. The other is rue Victor Hugo running north to south from Place Bellecour to Place Carnot.

The I arrondissement, the Terreaux neighborhood, north of the Presqu'ile is where nightlife is hosted by sidewalk cafes and jam-packed bars. The II arrondissement, just south of the Presqu'ile, is the true city center and includes the Perrache train station and Place Bellecour as well as many shops, hotels and restaurants. Roman Lyon is found across the Saone west of Presque'ile. This is where you'll find Fourviere hill, the Roman theater and a basilica.

Hostel overview

Hostels are few in a town more interested in its everyday business than catering to tourists. And the hostels to be found mostly cater to school groups. But, when has anything ever stopped fans of europeanhostels from finding a bed? Besides, the food in this town is too good to ignore. You'll just have to raise your standards a little and stay at one of Lyon's many cheap hotels. Cheapos will have to suffer by getting a little more privacy and a few more amenities than we are used to in other cities. Maybe a city with few hostels is not so bad after all.