Lyon City Transportation
Read on to learn about Lyon's metro and see why we think walking is the best way to explore the city.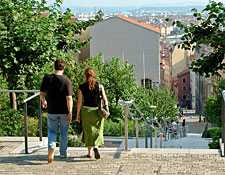 Walking
Lyon is home to long, leisurely pedestrian streets perfect for lingering tourists.
Metro
The metro lines of the urban rail are color coded. The red A line runs north and south through the Presq'ile starting at Gare de Perrache. The green D line runs across Brotteaux through Presq'ile, with a stop at Bellecour, and through Roman Lyon.
Single ticket: €1.60
1-day ticket:  €4.50
Ten-ride ticket:  €13.20
Weekly pass:  €15.20
More information at: Lyon Metro Lines
Airport
Airport information at: www.lyon.aeroport.fr
Note: All prices were accurate when compiled. Please check the Web sites listed for the most up-to-date information.