Hostel Aphrodite
Editor's Pick
Hotel Address
12 Einardou & Michail Voda Corner 65
Athens, Greece
Average guest rating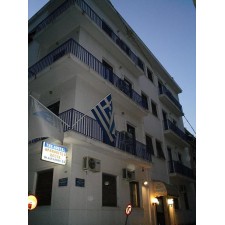 Check Rates for

Hostel Aphrodite

Checking Rates for

Hostel Aphrodite

No availabilityLowest price:
EuropeanHostels is currently checking rates for your dates

The Basics: Hostel Aphrodite email this page
Situated near Victoria Square in a residential area, the Hostel Aphrodite has single and dormitory rooms (linen included), as well as an on-site restaurant. Car parking, laundry access, luggage storage, and meeting facilities are available. The Internet is accessible from the lobby, and there are also telephone/fax facilities available for use. No curfew.
Average Guest Ratings
Our users' reviews
"Average Hostel"
The Aphrodite was out of the way (for "residential" read "ghetto"), and the staff was less than accomodating (it took 4 hours and three trips to the reception desk to get our air conditioning turned on), but other than that it was fine. The rooms were clean and had little balconies overlooking the streets, it's not too far to the metro stations and walking distance to the Archeological Museum, and there are plenty of opportunities to meet people, always people in the downstairs bar or chilling on the steps outside. Also, the area might be dirty, but it seemed safe and plenty of good, cheap places to find food and drink nearby (but be prepared to get more rude glances here than in the city center if you try to speak English). Would stay there again.
"Hostel Aphrodite"
It was ok. Kind of hard to find. Good location though. Not a far walk from Victoria Square (I think it is) and lots of cheap shopping around. Rooms were decent. Crowded and ours was noisy but that's an exception.
More Information
Hotel Address
12 Einardou & Michail Voda Corner 65
Victoria, Athens, Greece
more information
Amenities
Hotel
Bar/Lounge
Bicycle Parking
Breakfast Available (charge)
Breakfast Included in Rate
Credit Card Payment Accepted
Elevator/Lift
Fax Available
Internet Station Available
Luggage Storage
Parking: Free
Reception: Always open
Swimming Pool
Tourist information
Wi-Fi (available)
Wi-Fi (Free)
Room
AC in room
Linen/Bedding Included
Towels
About the Hostel Aphrodite neighborhood
This hood is best known for Victoria Square, a bustling (and somewhat seedy) area directly north of the city center. The National Museum is nearby.