Bologna City Transportation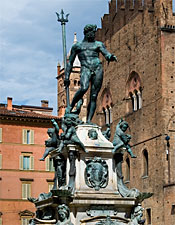 Bologna is small enough to explore without public transportation, though a bus system is available.
Walking
The best way to get around this small city is to stroll. Most sights are within a 10-15 minute walk from the main square, Piazza Maggiore.
Bus
Buses run effeciently, but get overcrowded in early afternoon and in the evenings. Bus 25 and bus 30 leave from the train station and run up Via Marconi and across Via Ugo Bassi and Via Rizzoli.
More information at: www.atc.bo.it.
Airport
Information at: www.bologna-airport.it.