Helpful Information: Bologna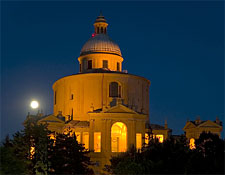 Check out these sites to get in the mood for Bologna.
Aeroporto di Bologna
Fly into town with this great Bologna airport site.
Bologna Centrale GrandiStazioni
This site's dedicated to the hub of Bologna train travel.
Bologna Tourist Site
Time to learn the local language! This site is great, but can only be viewed in Italian.
Basilica of San Petronio information
Information about the Basilica of San Petronio on the National Institute of Astrophysics site.
Basilica di Santo Stefano
This is the official site of the famous Basilica di Santa Stefano.