Sokolska Youth Hostel
Editor's Pick
Hotel Address
Sokolska 52
Prague, Czech Republic
Average guest rating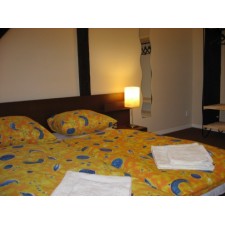 Check Rates for

Sokolska Youth Hostel

Checking Rates for

Sokolska Youth Hostel

No availabilityLowest price:
EuropeanHostels is currently checking rates for your dates

The Basics: Sokolska Youth Hostel email this page
Guests at Prague's Sokolska Youth Hostel will surely appreciate its central location in the Nove Mesto, a short walk from Wenceslas Square.

Rooms include dorms that sleep between four and eight and private singled, doubles and triples. Dorms have their own bathrooms while privates share facilities. Linens are included in the room rate.

Facilities include free Wi-Fi throughout the building, safe storage at the reception desk (since there are no personal lockers), city maps, linens, towels, soap, and coffee. There's no curfew at the Sokolska, so you can go to the Roxy and crawl into bed whenever you please!
Average Guest Ratings
Our users' reviews
"Great place!"
This was a great hostel. My friend and I shared a double bedroom and it was perfect for what we needed. The area was great, walking distance to the old town. And the internet works perfectly. The shower wasn't the cleanest but that's my only complaint.
"Nice place to stay."
Great location and great value. Nice room but was extremely hot and also noisy. Showers/toilets fine, plus easy (free) internet access. Would recommend.
"El mejor de todos"
Excelente atencion (siempre a disposicion), ubicacion (mas que envidiable), instalaciones ba?os, cocina y habitacion limpios, confortables, completos y no hubo nada inesperado ni gastos extras. internet disponible siempre.
Amenities
Hotel
Airport Transportation
Beach umbrellas and deck lounges
Bicycle Parking
Bike Rental Available
Breakfast Available (charge)
Children Friendly
Conference room
Credit Card Payment Accepted
Elevator/Lift
Fax Available
Guest Kitchen
Internet Access: Free
Internet Station Available
Luggage Storage
No Curfew
No Lockout
No Smoking in Hotel
Parking Available
Reception: Always open
Restaurant
Storage Lockers
Taxes Included in Price
Tourist information
Wi-Fi (available)
Wi-Fi (Free)
Room
Linen/Bedding Included
Towels
About the Sokolska Youth Hostel neighborhood
Nove Mesto is the lively heart of Prague, with plenty of cheap hotels and a slew of tourist attractions. The area boasts Wenceslas Square, the National Museum, and some striking architecture. Old Town Square, about a 20-minute walk away, offers more old-school architecture.