San Martin Hostal
Editor's Pick
Hotel Address
Concepcion Arenal, 4, 4º
Madrid, Spain
Average guest rating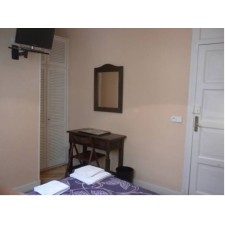 Check Rates for

San Martin Hostal

Checking Rates for

San Martin Hostal

No availabilityLowest price:
EuropeanHostels is currently checking rates for your dates

The Basics: San Martin Hostal email this page
The San Martin Hostal in Gran Via is a two-star hotel that can sleep 23 guests. The Gran Via location puts guests within walking distance of many attractions. All rooms have TV and children are welcome.
Average Guest Ratings
Our users' reviews
"Decent stay"
Great location, right in the center of town. Kind staff and very clean rooms. The only issue was lack of air conditioning-- makes for dreadfully hot and stuffy rooms in summertime.
More Information
Hotel Address
Concepcion Arenal, 4, 4º
Along the Gran Via, Madrid, Spain
more information
Amenities
Hotel
Breakfast Available (charge)
Elevator/Lift
No Curfew
No Smoking in Hotel
Reception: Always open
Wake-Up Service
Wi-Fi (available)
Wi-Fi (Free)
Room
Fan Available
Heat in room
Rooms with private bath
Television
About the San Martin Hostal neighborhood
The Gran Vía is Madrid's main thoroughfare, and the street is lined with beautiful buildings, shops, and cinemas. A wide rang of accommodation options, from one-stars to five-stars, are available along this expansive boulevard.