Free Things To Do in Valencia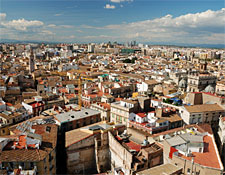 Valencia has some free museums and churches for your touristic pleasure. Read on for the details.
Free Attractions 
Like oranges? Good, because they're everywhere. Everything from architecture, to hand fans, to trees pays tribute to this town's world-famous fruit. Most of the sights tourists want to see line the Turia riverbed or surround the Plaza de la Reina.
The north end of the Plaza de la Reina is where the Catedral sits. Begun in the 13th century and finished in 1482, the building has three separate entrances and shows off a mix of architectural styles: Romanesque, Gothic and Baroque.
The Museu Provincial de Belles Artes, adjacent to the Jardines del Real, houses a wide array of paintings. Within its walls, a bunch of Goyas meet Velazquez's self-portrait and El Greco's 'San Juan Bautista.' Jardines Real is the place to find ponds, birds, fountains and green houses.