Valencia City Transportation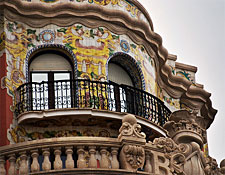 Walking is a piece of cake in Valencia, though a Metro and bus system rounds things out.
Walking
The main sights in Valencia are all very close to one another. Walking is the easiest and most pleasant option.
Metro and Bus
Metro Valencia routes run throughout 4 zones: A, B, C, and D. Base fares are priced for travel within one zone, but tickets for travel in multiple zones are available. It's easier to purchase a Valencia Card, which is valid for unlimited travel on metro trains, trams, and buses and can be used to cash in on discounts at selected museums, restaurants, and shops. Most local buses take off from Plaza del Ayuntamiento 22. The number 8 bus runs from Plaza del Ayuntamiento to the bus station at Avenida Menendez Pidal. Late night buses go through Plaza del Ayuntamiento every 45 minutes.
Metro Tickets
Single ride: €1.25

Round-trip: €2.10

Bonometro 10-ride card: €5.85

24-hour Valencia Card: €7

48-hour Valencia Card: €12

72-hour Valencia Card: €15
More information in English at: www.metrovalencia.com.
Bus Tickets
One-way: €1.40

10 trips: €6.50

One day: €3.50

Two day: €6

Three day: €8.60
More information at: www.emtvalencia.com.
Airport
Spanish airport information at: www.aena.es.
Note: All prices were accurate when compiled. Please check the Web sites listed for the most up-to-date information.