Free Things To Do in Zurich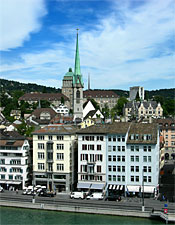 Zurich is an expensive city, but walking around and soaking in the posh vibe won't cost you a cent. There are also some free churches to visit.
Free Attractions
This is the place where you can just walk around and feel rich. OK, maybe not really. But, it is the spot for some free window shopping and feeling the power of gold and silver beneath your feet, literally. They say fortunes are stashed in vaults beneath the street of Bahnhofstrasse.
On Sunday afternoons, families in Zurich enjoy strolling around the Lake Zurich, causing traffic jams at some point. On the eastern bank is Zurichhorn Park. Besides people watching, highlights include sculptures and the Chinese Garden. In the summer, plenty of entertainment is here to be seen and heard. The swimming area is roped-off providing a place to splash for free.
The churches in this town to see include the grim sounding Fraumunster. The frightful name is nothing to fear as the Marc Chagall strained-glass windows are not to be missed. If fancy glass doesn't impress you, the 13-century tower of St Peterskirche might. Sporting Europe's largest clock face, it's just the thing to show pride in Swiss precision. The Grossmunster is where Protestant preachers spread the word for centuries.