Zurich City Transportation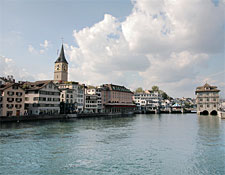 Walking in Zurich is easy enough, though there's a tram and bus system to get you around as well.
Walking
Most sights in Zurich can be seen just by walking around. But, remember, this city is in the middle of mountains. If you think you might be inspired to climb one, bring your hiking boots.
Tram and Bus
The system in this efficient Swiss city is an easy-to-use combination of trams and buses. The most important hubs for tourists are at the Bahnhofplatz and Central and Bellevue, on the east side of the river. Going to and from the airport requires a multizone ticket.
More information at: www.vbz.ch.
Tram and Bus Tickets
One hour: CHF 4

One day: CHF 8
Airport
Airport information at: www.zurich-airport.com.
Airport-to-City Tickets
One hour: CHF 6.20
Note: All prices were accurate when compiled. Please check the Web sites listed for the most up-to-date information.