Helpful Information: Zurich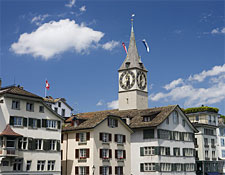 These sites have all the Zurich-themed info you'll need to plan your trip.
Zurich Downtown Switzerland
Tourism in downtown Zurich is made easy with the help of this Tourism company.
Zurcher Verkehrsverbund
Learning about public transportation in Zurich is easier than pronouncing Zurcher Verkehrsverbund!
Zurich Airport
Zoom in and out of Zurich on the airport's main site.
Zooh! Zurich
The highly recommended zoo in Zurich has a rain forest. Monkey see, monkey do!
Kunsthaus Zurich
Masterpieces must be seen to be believed at this Zurich staple for art lovers.
Velostationen Schweiz
Read about the free Zurich bike system in French and German or just look at the pretty pictures of bikes.