Helpful Information: Vienna
Here are some useful links to help you plan your Viennese vacation.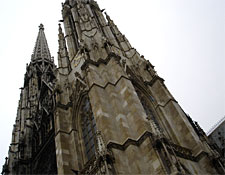 Wiener Linien
Travel in Viennese style with the help of the Wiener Linien system.
Vienna International Airport
The International Airport of Vienna likes to help visitors fly in and out online.
Vienna Tourist Board
The Vienna Tourist Board has its own site that provides plenty of Austrian inspiration.
Kunsthistorisches Museum Wien
This is the quintessential Viennese museum. Big, beautiful and chocked with masterpieces.
Albertina
The official site of the Albertina Museum is colorful and easy to navigate.
Haus der Musik
Vienna is a virtual music hot-spot. Queue up at the House of Music.