Vienna City Information
Vienna's geography can seem confusing at first, but with our guide to the city, it's easy to navigate.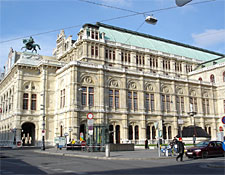 City Layout

With 23 districts Vienna may seem daunting, but, for the most part, it is compact and easy to navigate. The Old City is situated in the center of town inside a ring-like thoroughfare (Ringstrasse, otherwise known as the Ring). This centrally located ring is a tourist hot-spot, as most of the city's main sights are here, and, it gets better, are all easily accessible by foot. Stick to the Ring for museums, shops, and also Stephansdom, the city's main cathedral. If hip, but affordable lodging and cheap eats are what you're looking for, head west or south of the Ring. 

Hostel Overview

Vienna has it all: gorgeous architecture, wealthy locals, university students, chocolate, beer and lingerie. It comes then as no surprise that the place is packed with hostels that range in aesthetics, cleanliness, size, price, and locale. As far as location goes, there is something somewhere for every type, and no matter where you choose to stay, public transportation is simple. But book ahead, as this city is to backpackers what an open-mike night is to budding talent.