Antwerp: Helpful Information
We've rounded up the best links to assist you in planning your trip to Antwerp. (You're welcome!)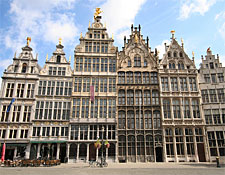 Tourism Antwerp
So, just what is there to do in Antwerp? Here's the place to find out.
City Transportation
Find out how to get around Antwerp on this city's public transportation site.
Antwerp Cathedral
Every city in Europe has its own cathedral, but not every cathedral has its own site. We love this one.
Antwerp Airport
The Antwerp Airport is here to serve you.
Royal Museum of Fine Arts
Painting, sculpture or drawings? Figure out what you'll see first at the Royal Museum of Fine Arts site.
Rubens House
Find out all about this 16th-century master of painting before seeing his works in person.
Diamond Museum Antwerp
The Diamond Museum of Antwerp is a girl's best friend, and everyone else's too.