Helpful Information: Nice
These are some links we love to help you get in the mood for Nice and its beach.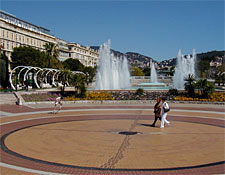 Ligne d'Azur
The Ligne d'Azur runs much of the public transportation system in Nice.
Info Tram
The tramway in Nice is nice if you are staying uphill from the beach.
Aéroport Nice Cote d'Azur
Find a sunny terminal in the Nice Cote d'Azur airport and relax.
Musée National: Marc Chagall
Marc Chagall has his own museum in a nearby beach town.
Musée d'Art Moderne et D'Art Contemporain
The beach in Nice doesn't have a monopoly on sculptured bodies. Nice's Museum of Modern Art has its own art to offer.
Musée Matisse
The works of Matisse look good at his museum by the beach.