Nice City Information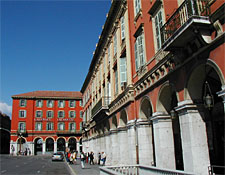 Get a grip on Nice's layout by reading our quick guide to the city and its hostels.
City Layout

Not surprisingly, it's all about the beach in this town. The train station, Gare Nice-Ville, is located .6 mile (.9km) north of the beach and the promenade des Anglais, Nice's main strip running along the beach. Most hotels and restaurants are located between the train station and the beach with a heavier concentration of everything the closer one gets to the water. The area referred to as Vieux Nice is right on the water southeast of the train station. This is where the Opera de Nice and the Theatre du Cours are found as well as lots of nightclubs for you to get on your jet set.?

Hostel Overview

Of course you have to make a reservation. With nice beaches, nice weather, nice nightlife, nice museums and a nice February carnival, this French town is the epitome of "Riviera." Nice's two official hostels are 4 km from the center of town, but are easily accessible by bus. Check the online listings for central cheapies.