Nice City Transportation
Nice was made for walking, though a bus system serves the town.
Walking
Are you kidding? This beach town is made for walking. Bring your sunglasses and sun block as well as your walking shoes, preferably sandals.
Bus
The Sunbus and Noctambus run during the day and night respectively. Tickets are sold onboard buses and at "Sunboutiques" around the city. For a fun experience, hop on the Nice "Little Train" which boards at Promenade des Anglais. The tram takes you through the old town, up Castle Hill and finally into the Bay of Angels.
More information at: www.transbus.org.
Bus Tickets
One-trip: €1.30

One day: €4

Seventeen rides: €20
Little Train Nice
Adult ticket: €7

Child ticket (under 9-years): €3
For more on Little Train Nice, go here.
Bikes, Scooters and Motorcycles
Prices vary for different blocks of time. JML Location at 34 avenue Auber, opposite the train station, rents bikes, scooters and cars at varying prices. Nicea Location Rent at 12 rue de Belgique, around the corner from the train station, has bikes, scooters, in-line skates and motorcycles for tempora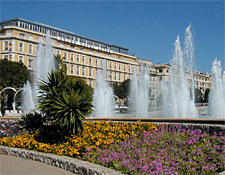 ry rent.
Ferries going to Corsica
One trip costs €43.
Airport
Airport information at: www.nice.aeroport.fr.
Note: All prices were accurate when compiled. Please check the Web sites listed for the most up-to-date information.