FIAP Jean Monnet
Editor's Pick
Hotel Address
30 Rue Cabanis
Paris, France
Average guest rating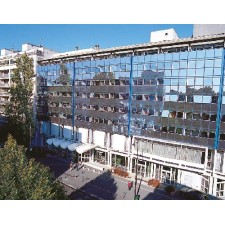 Check Rates for

FIAP Jean Monnet

Checking Rates for

FIAP Jean Monnet

No availabilityLowest price:
EuropeanHostels is currently checking rates for your dates

The Basics: FIAP Jean Monnet email this page
The gargantuan FIAP Jean Monnet—with 480 beds in central Paris—is situated within a twenty-minute walk of the Montparnasse cemetery and is a thirty-minute walk from the Luxembourg gardens. The FIAP is close to a metro stop too.

Dorm rooms and private suites may be booked. All are equipped with twin-size single beds, a shower and toilet. Linens are included as well as a free, daily breakfast.

The FIAP Jean Monnet supplements its party atmosphere with educational French-language classes for the ambitious traveler and a daily 9 a.m. check-out time forces backpackers to rise and shine early to explore the city. The place also has its own cafeteria, tourist information desk, lounge with live music events and there's a disco in the basement.
Average Guest Ratings
Our users' reviews
"Not bad but not good."
I recently stayed here and my overall experience was ok but not great. The food was my first test for my overall impression. The selection is average and the effort was nothing short of sad. You could tell that most of the food was made in a flash and the taste was bland as a result of it. The hostel was overall clean and tidy and maids tidy your room daily. ** WORD OF WARNING ** Secure any items of value and lock your suitcase. The maids dont only clean your room but also your suitcase and anything they like out. My gifts and small change happened to be misplaced after my room was cleaned. My bag is always closed fully and i doublechecked to make sure it was and when i returned it was wide open. The staff are not very welcoming and when i alerted them about the maids they couldn't speak any english all of a sudden and then during the middle of the conversation with the manager, he walked off and answered the phone and left me there to wait 20 minutes. I wouldnt go there again and it is not suitable for a long stay to any visitors looking at this hostel.
"Nice place to call Home"
I stayed summer 2006 for 32 days and summer 2007 for a week. The place is clean, the food at the FIAP is especially delicious and you get great value for your money. The location is very central and whether you want to shop at the local market for cheese and bread and then drop by the local wine shop, or go to dinner at the nearby restuarants or travel on the Metro to go away for dinner, the area is well situated. The buses are close-by, the Metro is a short walk away,shopping and food stores are everywhere. Also the Metro Prix is within walking distance and is the place to get everything!!The only thing I didn't like was the way the shower operated and that is just being nit-picky. I would return at any time!!! I enjoyed the place tremendously!
More Information
Hotel Address
30 Rue Cabanis
Place d'Italie, Paris, France
more information
Amenities
Hotel
Bar/Lounge
Breakfast Included in Rate
Credit Card Payment Accepted
Elevator/Lift
Fax Available
Laundry Service
Luggage Storage
No Smoking in Hotel
Reception: Always open
Restaurant
Storage Lockers
Swimming Pool
Wi-Fi (available)
Wi-Fi (Free)
Room
Handicap-Access Room Available
Linen/Bedding Included
Towels
About the FIAP Jean Monnet neighborhood
The Place d'Italie is a busy square in the 13th arrondissement. The area is home to the Italie 13 Project, a collection of high-rise buildings constructed in the 60s. The Montparnasse Cemetery is a short walk west.