Le Montclair Hostel
Editor's Pick
Hotel Address
62, Rue Ramey
Paris, France
Average guest rating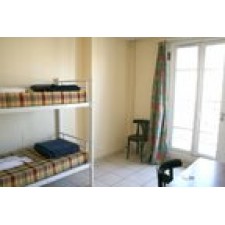 Check Rates for

Le Montclair Hostel

Checking Rates for

Le Montclair Hostel

No availabilityLowest price:
EuropeanHostels is currently checking rates for your dates

The Basics: Le Montclair Hostel email this page
Located in the gorgeous neighborhood of Montmartre, Le Montclair Hostel sits within walking distance of Sacre Coeur and is well served by public transportation. It's a convenient place to crash in Paris.

Both dorms and private rooms are available, all with either shared or en suite bathroom facilities. Linens, towels and breakfast are provided in the price of a night's stay.

On-site amenities include a guest kitchen, Internet access and luggage storage. There's no curfew, but you must be 18 to stay here.
Average Guest Ratings
Our users' reviews
"Sweet!!"
Actually a very clean hostel with super friendly people and staff!
"ok for a quick stop"
This hostel was okay, I've stayed in cleaner places for the same price but it wasn't bad. It would be ok for a quick stay, showers are the small ones. I had decent roomates in a mixed dorm and that helped. There were other people in the building that were less considerate and sleep didn't come easily here. The kitchen was sparse in resources and the internet was really slow or didn't work. staff was overall decent it depends on who you got some were nice and some were off a bit
"My First Hostel in Europe"
The hostel was good. Although the bathrooms inside the room needed maintenance. Breakfast was ok. The reception was quite helpful.
"More expensive than its worth but great location"
Expensive for what you get in comparison to other hostels I've stayed in throughout Europe. The dorm rooms are actually better than the privates as long as you have considerate roommates. The lower floors can be quite noisy, so the higher the better if you can brave the stairs. Also, the staff can either be very nice or extremely rude. I overheard two of them saying rude comments about me in French because they assumed that I didn't understand French, unfortunately I do.
"Good value for money"
Located really close to metro stops , the hostel itself was clean and the staff was friendly.We had a room on the third floor and contrary to other reports there was no lift just a staircase so maybe the lower the better. Multi-lingual staff helped us and all other guests with planning their vacation. I would stay again.It's sufficient for a traveller on a budget.
Amenities
Hotel
Airport Transportation
Bicycle Parking
Breakfast Included in Rate
Credit Card Payment Accepted
Fax Available
Guest Kitchen
Internet Station Available
Luggage Storage
No Smoking in Hotel
Reception: Always open
Tourist information
Wi-Fi (available)
Wi-Fi (Free)
Room
Linen/Bedding Included
Towels
About the Le Montclair Hostel neighborhood
The hood on a hill, Montmartre is Paris at its most bohemian. Located on the north side of the Right Bank, this area is famous for its tourist traps along with its photo-op views. The best dining is found on the rue des Abbesses, though all of the neighborhood is worth exploring on foot.