Free Things To Do in Munich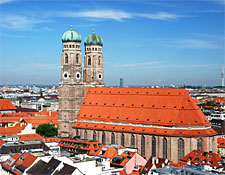 Munich has plenty of famous, free attractions. We outline a few of them here.
Free Attractions
The good ol' Glockenspiel is a good place to start when it comes to free attractions in Munich. This is where the famous clock chimes its way into tourist hearts in the form of jousting knights and dancing coopers, (that's a 'tub and cask repairman' to modern folk). The show happens at 11 AM, as well as 12 PM and 5 PM in the summer.
The huge Residenz at Max-Joseph-Platz 3 is where Bavarian rulers did their ruling for six centuries until 1918. Though it costs a small fee to get inside, just walking around it is free for you and me.
One of the largest city parks in Europe is in Munich. The Englischer Garten, in the northern part of town, is the perfect place to see the people of the city and take a leisurely stroll along the Schwabinger Bach. Beware puritans; in the summertime nude sunbathing is the rule. If the nudity is too much to handle, the three beer gardens in the park are sure to help anyone cope.