Helpful Information: Munich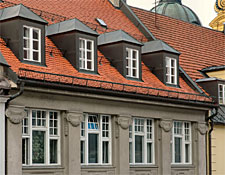 Visit these sites to learn more about the Bavarian capital.
Muenchen
Muenchen is making tourists happy with this information-packed site.
MVV
Public transport is sponsored by the MVV in Munich and that's just the beginning of what you can find out on their site.
Munich Airport International
The airport in Munich is easy to navigate with the help of this go-to site.
Mike's Bike Tours Munich
Rent one of MIke's bikes on your own or take a guided bike tour of Munich.
Residenzmuseum
The palace in Munich has its own spectacular museum.
Alte Pinakothek
Boxy, moving maps invite tourists to navigate Alte Pinakothek.