Munich City Information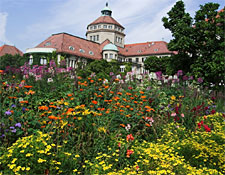 Read our guide to Munich's layout so you can navigate your way from beer garden to beautiful park.
City Layout

The Marienplatz is in the center of Munich's Altstadt, the same place to find most of the city's historic sights. This is also where the famous Glockenspiel chimes and the jousting knights dance. Hauptbahnhof, the main train station, is half a mile (1km) northwest of this center of town. The Marienplatz is surrounded by restaurants, hotels and Internet cafes.

Bars and beer gardens are scattered all over the city making the German home of Oktoberfest quite the place to partake in the frosty beverages year round in any neighborhood you want. The Schwabing is located 1000m northeast of the Marienplatz. This is where the hippest of the hip hang at lots of inviting restaurants, pubs and cafes. 

Hostel Overview

Munich is armed with a fair amount of hostels making getting a bed easier here than in other hostel-challenged cities. A convenient cluster of hostels is ready to be discovered near the Hauptbahnhof making coming and going easy especially since the neighborhood surrounding the station is surprisingly clean.