Munich City Transportation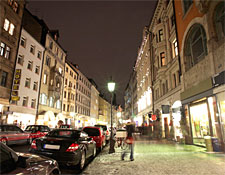 The heart of Munich is easily explored on foot. We'll outline the options for getting further afield.
Walking
The heart of Munich is an easy area for pedestrians. The train station and the Marienplatz are .6 miles(1km) away from one another. If you prefer to venture away from the traditional tourist spots, however, public transportation is recommended.
S-Bahn and U-Bahn
S-Bahn lines serve the suburbs (think of the "s" in suburb) and are accessible via Eurail, InterRail and German railpasses. U-Bahn lines are concentrated downtown (think "u" for urban) and do not run in conjunction with rail passes.
S-Bahn and U-Bahn Tickets
Short-trip: €2.40

10-trip ticket for use by multiple people: €10

One-day: €5.20

One-day up to five adults and a dog: €9.40

Three days: €12.80
More information at: Munich Transport Web site
Bike
Radius Bikes in the Hauptbahnhof, open May to mid-October, rents bikes for a €50 deposit. Rental is €3 per hour and €14 per day. Mike's Bike Tours, across from the back entrance to the Hofbrauhaus, rents bikes and provides tours. All-day rental is €12 and overnight rental is €18.
Check out Mike's Bike Tours at www.mikesbiketours.com.
Airport
Airport information at: www.munich-airport.de.
Note: All prices were accurate when compiled. Please check the Web sites listed for the most up-to-date information.