Dublin City Information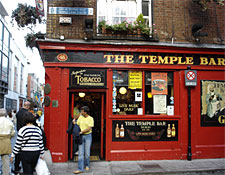 Before you book your hostel for Dublin (and certainly before you arrive in town!), it's best to understand how the city is organized and how the hostels are situated. Here's a quick look...

City layout

The River Liffey splits Dublin into a ritzy southern region and a less-than-ritzy northern region. Head to the sight-central south and hit a majority of Dublin's must-sees, including Trinity College, posh stores, and upscale restaurants. Follow Dame Street west from Trinity's College Green and you'll hit all the monuments of medieval Dublin. However, continue west and you run into the (slightly run-down) Liberties quarter, where you'll find the Guinness Brewery.

If ritzy shopping is what you're seeking, head south of College Green to Dublin's fashionable, pedestrian-only, shopping-central Grafton Street. Take Grafton Street all the way south and you can frolic with your new purchases into St. Stephen's Green, central Dublin's largest park. One block south of the Liffey is the hopping, artsy area, Temple Bar, complete with hip galleries, restaurants and cafes.


Hostel overview

With the exception of hurling season, (that's a sport, folks!) and St. Patrick's Day, finding a hostel in Dublin should not be any trouble at all any time of the year. Plenty of hostels abound along the River Liffey and around Trinity College. And, most are located exactly where most hostellers want to be near the lively, though really tourist-y, Temple Bar area just west of the 400-year old university. Most hostels and budget hotels, at least the ones we recommend here at EuropeanHostels, are also located in areas of interest to tourists; near the Dublin Castle, around Christchurch Cathedral and within stumbling distance of the Guinness Brewery.