Free Things To Do in Dublin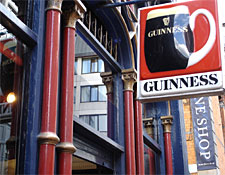 You'll find plenty of free sightseeing and museums in Dublin. Read on for the specifics.
Free Attractions
Dublin is home to several art museums, attracting visitors of the freeloader persuasion. For starters, the National Gallery is free of charge. Both contemporary and older Irish art is housed here. The Dublin City Gallery The Hugh Lane has a collection of more 20th-century Irish artists as well as French Impressionists. More free art is found at The Irish Museum of Modern Art on Military Road.
Besides the possibilities for some incredible people-watching, The Temple Bar area offers up a few photography museums of interest. Both The National Photographic Archives and The Gallery of Photography are located on Meeting House Square. Entrance is free.
The National Museum, on Kildare street, asks for admission by donation. This is the place to see the Bronze and Iron Ages through well-preserved objects and learn what the 'Bog Body' is. Continue your education at The Chester Beatty Library at the Dublin Castle. This is where one can see 270 illuminated Qur'ans amongst other surprises.
Speaking of Allah, let's not forget churches! The original structure of the Christ Church Cathedral was built in 1169 and the church's north wall has been leaning since 1562.
O'Connell street is the place to see a few things for free. The largest is the Monument of Light erected in 2003. An homage to the Aran sweater, this spire is a knitting needle which shoots off light from the top. The General Post Office building was used as a military base during the 1916 Easter Rising.