Helpful Information: Dublin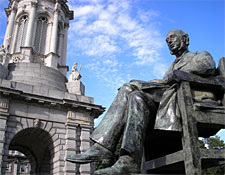 We love this sites with information about the Irish capital.
Dubl!n
Lots of Dublin info courtesy of the city's tourist office.
Dublin City Council
Dublin City Council is a major local authority with a very informative site.
Dublin Bus
No need to thumb it. Bus it through Dublin with the help of this site.
Dublin Airport
This site makes getting in and out of the Dublin airport as easy as a jig.
Trinity College
Irish eyes are smiling at the Book of Kells.
Dublin Castle
Ever wanted to see ye olde castle smack Dub' in the center of town? Check this out.
The Guiness Storehouse
There's always new stuff brewing here. Cheers!