Florence City Transportation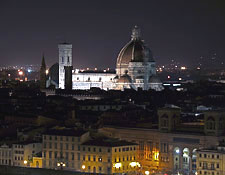 Florence is a small city, but it doesn't hurt to learn about the bus system in case your feet get tired.
Walking
Florence is small enough to get around on foot. In fact, much of the town is blocked off to automobiles. Everything touristy is within a 20-minute walk.
Bus
Small, electronic ATAF buses circle around the city. A single ticket is valid for 70 minutes. Children 4-12 are eligible for reduced fares.
More information at: www.ataf.net.
Bus Tickets
Single ticket: €1.20

Four-ticket pack: €4.50

10-ride card: €10

21-ride card: €20

24 hours: €5

Three days: €12
Bikes
The Florentine tourism board is encouraging people to ride bikes by providing them for free, during the day, at bike stands set up all over the city. Provided by Firenze Parcheggi, the public garage authority.
More information on Firenze Parcheggi rental: www.firenzeparcheggi.it.
Scooters
Both scooters and bikes can be rented at Alinari. Prices vary.
More information at www.alinarirental.com/
Airport
Information at: www.aeroporto.firenze.it.
Note: All prices were accurate when compiled. Please check the Web sites listed for the most up-to-date information.