Free Things To Do in Florence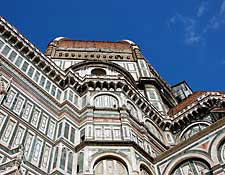 Need to keep it cheap? Read on for info on discounts and free attractions in Florence.
Discounts
The International Student Identity Card (ISIC), the most widely accepted form of student ID, provides discounts for all sorts of things including meals and transportation. In most cities, it is a money saver. Unfortunately, use of the ISIC card in Florence, in particular, is limited. Most museums do not offer student discounts and make a point of announcing it with entrance signage.
Free Events
This is definitely a city to walk around. Small, with many pedestrian streets, one can easily see one priceless view after another on foot. A beautiful place to start is the outdoor market, Mercato Centrale. Another interesting point of commerce is the Mercato San Lorenzo, surrounding the San Lorenzo church, and offering great prices on leather goods and bags. 
The incredible Duomo Cathedral is free of charge. Amongst all the other points of glory, restored 16th-century frescos abound. Volunteers offer free tours Monday--Saturday from 10:30 AM-12 PM and 3-4:20 PM. Be sure to call ahead to confirm guide availability.
Guided tours are offered for free at other Florentine points of interest around the historic town including Palazzo Vecchio, Santa Maria Novella and the Brancacci Chapel. Make a stop at the tourist office for more information. 
Florence is one of the few places left in Italy to hear Gregorian chant. In one of Florence's oldest churches, on a hilltop no less, one can go back in time to the 11th-century, listening to the Vespers in San Miniato. Visitors are also welcome to listen south of the Arno River at the Piazzale Michelangelo. The monks sing here during late-afternoon vespers.