Florence Hostels: What You Need to Know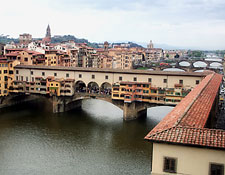 Wonder what to expect from your hostel in Florence? Wonder no more. We answer all your questions below.
Q. What is the Florence "hostel scene" like?
A. Florence hostels are, more often than not, a bucket of fun. Organized activities like pub crawls and tours of Tuscany are common. Many hostels have their own bars, and most are staffed by outgoing locals eager to show you the best their city has to offer.
If you're looking for somewhere with great organized events, check in to the Emerald Fields hostel – just a few blocks from the famous Galleria dell'Academia. If you're looking for a lively, social atmosphere, try the Luna Rossa hostel (a block from the San Lorenzo market) where you'll experience classic Italian hospitality. (The staff has been known to distribute free wine and even take guests out on the town.)
If you're looking for somewhere quieter and with more privacy, try the Youth Hostel Firenze 2000, which, despite its energetic name, is located safely across the river from most of the tourist crowds of central Florence. At the YHF, alcohol is prohibited to ensure utmost quiet for guests.
Q. How much do hostels in Florence cost?
A. Hostels in Florence will cost around €18 per bed per night, if you don't mind sleeping in a room with other travelers. The nightly cost goes down for the larger dormitory rooms – the most economic option we offer is the Locanda David hostel (about 200 meters west of the central SMN train station) with friendly staff and an unbeatable rate of €9 per bed.
If you're traveling with a friend or two, it is possible to secure your very own private rooms at very little extra cost. Most Florence hostels offer rooms with two, three, four, and five beds – all your posse needs to do is book all the beds in the room. Prices for quads and triples run about €20 - €25 per person, while doubles are closer to €30 per person.
Believe it or not, many hostels offer private singles, too. The Campos Soggiorno hostel has a great deal of singles at just €20 per night. It's located near the Giardino della Fortezza, within walking distance of central Florence's major attractions.
Q. What do I get for my money?
A. Florence hostels almost always have phone and internet service (free or for a small charge), TVs, DVD players, cafés or bars, storage lockers, common rooms, an English-speaking staff, city maps and guides, and laundry and kitchen facilities. (Some of the smaller guesthouses may lack some of these amenities.) Many hostels also include a continental breakfast free of charge. It's also important to know that the price of a bed may not include sheets to go on top of it! (You can often bring your own sleeping bag or rent sheets for a couple extra euros at the front desk.)
Q. What are the cancellation policies?
A. When you book through europeanhostels.com, hostels will keep your 10% deposit (paid when making a reservation) in the event of a cancellation or no-show. Additionally, hostels may charge for the first night if you cancel within 72 hours of check-in.
Q. What else can I expect to find at a typical Florence hostel?
A. One of the great things about Florence hostels is the extras they offer, which give each place its own unique character:
• The Five Star Hostel (located near Santa Croce) is housed inside the "Alberti Tower," a medieval building that dates to 1040! Still, they've got air-conditioning, television, and orthopedic mattresses…
• At the Luna Rossa hostel (one block from the central SMN train station) anyone who beats Marco, the owner, at ping-pong, stays one night completely free. And if you don't win, every room has satellite TV, an online computer, and air-conditioning to console you in your loss.
• The Hostel Greci is located just minutes from the Ponte Vecchio, the Uffizi Gallery, and the Duomo. For art fans, history buffs, and picture-takers, you can't beat the Greci for location.
• The Leonardo House hostel offers classic Italian hospitality right in the home of its owner and namesake, Leonardo, who really goes the extra mile to make your stay special. He'll personally greet you at the train station and walk you to the hostel, a two-minute walk from the Duomo.
Q. Where are most hostels in Florence located?
A. Just north and east of the Santa Maria Novella train station you'll find yourself in a neighborhood with no shortage of hostels to choose from. This is San Lorenzo – an affordable, colorful neighborhood characterized by its massive, bustling market selling everything from leather bags to doner kebabs. San Lorenzo is definitely the cheapest place to eat and shop while still in central Florence. It's not too touristy, yet you are still in close proximity to the city's major sights.
The most central area in town, around the magnificent Duomo, boasts a handful of hostels. This neighborhood caters to tourists, and most restaurants are on the expensive side. You'll see a lot of souvenir shops, street performers, caricaturists, and a handful of some of the fanciest Italian fashion boutiques. But most importantly, you'll be a stone's throw from nearly all the iconic sights: the Galleria dell'Accademia, the Uffizi gallery, the Palazzo della Signorina, and of course, the Duomo.
Across the river Arno from the crowds, you'll find the peaceful, residential neighborhood of Oltrarno (literally "beyond the Arno") nestled around the exquisite Boboli Gardens and the Palazzo Pitti. Despite its overall residential character, Oltrarno has its share of hostels, restaurants, and bars, all of which are both more local and casual than their counterparts across the Ponte Vecchio.
Q. Where are the "official" hostels in Rome located?
A. Hostelling International is a non-profit membership organization operating two hostels in the Florence area. Non-members pay an extra €3 or can choose to become a member for around €13 a year, which gets you discounts at hostels, theaters, and other major attractions.
• The Tavarnelle Val Di Pesa Hostel is located 23 km south of Florence in the small village of Tavarnelle in the heart of Chianti country. Buses run between Florence's central SMN train station and Tavarnelle; bus service is also available to certain parts of the Tuscan countryside, including the well-preserved medieval village of Siena. The hostel is well-run, clean, safe, and affordable. Bicycle and horse rental are available.
• The Youth Hostel Villa Camerata is located 4 km northeast of central Florence – about a 15-20 minute bus ride from the central SMN train station. Housed in a 15th-century building in a large park, the Camerata is a quiet, safe place to stay. On the other hand, the Camerata is slightly lacking in both the character and fun departments. Beware of large groups and imposed lock-out between 10AM and 2PM.
Q. Do hostels in Florence have curfews?
A. Some of the hostels in the more residential areas of Florence do have curfews for their guests, but most of the city hostels do not. A hostel's property description will always tell you whether or not they impose a curfew.