Free Things To Do in Milan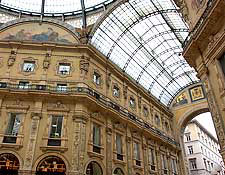 Many of Milan's famous sights are free to view. And it doesn't cost a euro to window-shop on the city's poshest streets.
Free Attractions
The Duomo is pretty unbelievable. Taking 600 years to build, the facade is a marble monstrosity of spires and statues that is so detailed it's difficult to photograph or even describe in words. You get to see it in person for free.
One-fourth of a mile (.4km) northwest is the Parco Sempione. Not only is this the perfect place to have your own last supper out of doors, it's also the place to see the Castello Sforzesco. Once a fortress, it is now home to a furniture collection, sculpture and a stray Michelangelo. What do you know!
A very expensive part of town, (though it is free to look!) is Milan's famous fashion district. The streets behind the Duomo and Corso Vittorio Emanuele II are the places to find footwear and accessories. The place to window-shop and dream is along Via Monte Napoleone, Via della Spiga and Via Borgospesso.