MIlan City Information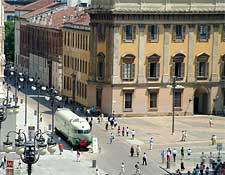 Read our guide to Milan's layout so you'll know exactly where the Duomo and the Gucci store are.
City Layout

No question about it, the bull's-eye of Milan is the area of the Duomo and Galleria Vittorio Emanuele. In and around this central landmark are four central squares: Piazza Duomo, Piazza Cairoli, Piazza Cordusio, and Piazza San Babila. Galleria Vittorio Emanuele, just north of the duomo, is a tourist spot where one can survey the magnificent architecture while enjoying cappuccino from one of the numerous cafés.

The world- renowned opera house, La Scala, is a five-minute walk north from here, followed by the Fashion District still further north. For more upscale fashionistas, head east of the Duomo on Corso Vittorio Emanuele to Piazza San Babila. This area, referred to as the "golden triangle," is home to the glitziest shops, including Versace, Prada, and Armani.

Finally, if you can bear wearing last season's more affordable fashions, check out Corso Buenos Aires, a five-minute walk southeast of the central train station. If you're in Milan not only to shop, head northwest from the duomo to Parco Sempione, a nice spot to picnic before heading south-west to the gothic Santa Maria delle Grazie.

As far as cheap eats and cheap sleeps, head northeast of the Duomo, past the Fashion District and east of Stazione Centrale (the central train station) to the Piazza Loretto area, where you'll find a majority of Milan's hostels and less expensive restaurants. 

Hostel Overview

Milan mixes old and new inside its ancient walls—fashion, history, business, fashion, shopping, fashion... The only thing this city lacks is an abundance of cheap sleeps. Two official hostels are located near the city's edge, both around 16 Euros a night. The HI option has a three-night maximum stay. Check the online hostels for more central cheap hotels and hostels. Milan is bustling year 'round, so book ahead. Sleeping in the park is sooo last season.