Free Things To Do in Madrid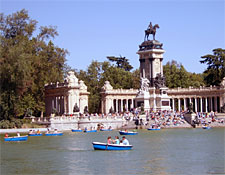 Explore Madrid without emptying your wallet. Vamanos! We'll show you how.
Discounts
Ojala! Almost every major attraction in Madrid grants student discounts. In order to receive a student discount you must have the ISIC, International Student Identity Card. To apply for one, go to: www.istc.org.
Museums usually have certain days or particular hours of the week in which admission is free to everyone. In some cases, the offers are for EU members only. Also, there are often particular times in which a museum may offer free tours hosted by guides.
Free Attractions 
Madrid is fascinating in its variation of architectural styles. A walk down the Grand Via is proof enough this city has been open to its share of experimentation. Baroque next to modern with Inquisition ware in the square is a typical sight. Somebody pass the Rococo.
Though admission is required for the castle, the grounds at the entrance, the Plaza de Oriente for example, are free for horsing around, whether or not you packed a stagecoach. The nearby Plaza Isabel II and Plaza del Callao aren't too shabby either and are completely picnic worthy to boot.
On the east side, near the Prado Musuem, sits another delightful patch of greenery at Parque del Buen Retiro. The hilly neighborhood in Bourbon Madrid, west of the park, is a fun place to walk up and down winding streets and take in some of the modern old world in its shops, apartments and people.
The Plaza Mayor is a fascinating site in the center of town that was used for the Inquisition. Nowadays, it's a much more cheerful spot for staking out a snack. If you don't have the cash for a sangria or two, you can always gaze at the square's allegorical paintings for free. The architecture of the lining buildings is a mix of French and Georgian. The streets leading into the square are cobblestone and show-off 16th and 17th-century architecture.