Helpful Information: Madrid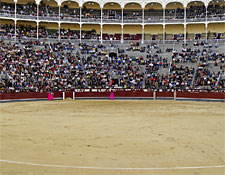 Learn about the Metro, the Madrid Card, and more with these helpful links.
Metro
Don't be blinded by red diamonds when you visit Metro de Madrid.
¡Madrid!
This site provides plenty of reasons to visit; exclamation points included!
Madrid Card
Buy the Madrid card before arriving in the city and hit public transportation and attractions with ease.
AENA
Navigate Spanish airports with the help of the AENA site.
Museo Nacional Centro de Arte Reina Sofĩa
See Madrid's collection of modern art before facing it in person.
Prado Museum
It's a no-brainer. You must see the the Prado's finest. Pra-duh!
Palacio Real
In the mood for palatial realism? Well, the Palacio Real's site is here to help.