Madrid City Information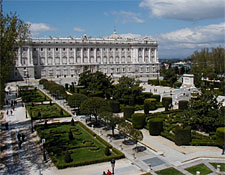 Know where to go in Madrid by reading up on the city's layout.
City Layout

This large capital city is, like many European cities, divided into an old part and a new part, and, though Madrid is huge, chances are you'll be spending most of your time in its old section. The old part's central and most touristed area, Puerta del Sol ("Sol"), is within walking distance of most sights.

Head west for opera and east for theater: to the west of Sol you'll find the Plaza Mayor, the Palacio Real, and the Ópera district, while to the east of Sol you'll find the majority of cafés, museums, and theaters. If you're looking for a good bar-hopping area, make your way north, past Sol's northern border to Gran Vía, where you'll run into Madrid's main club and bar-hopping districts: Malasaña, Bilbao, and Chueca.
Northeast of Gran Vía is the modern part of Madrid. Paseo de la Castellana, Paseo de Recoletos, and Paseo del Prado, are the main north-south thoroughfares that bisect the city, east from west. The university area (Moncloa) is in the northwest region, while the upscale Calle de Serrano is east of Castellana. 

Hostel Overview

Madrid is a city that knows how to have fun. Perhaps this is why there are only two official 'hostels.' If you don't think you can party the night away but you still want a taste of Spanish spirit, book ahead to score a night at the central option. Otherwise, the cheap and efficient subway system makes for an easy, half-hour ride to the suburban option. Though, if you're expecting to see countryside, complete with birds and bees, you may get more than you bargained for...the area has become notorious for prostitutes. Be careful after dark. (Editor's Note: Hostels-"hostales"-are different than youth-hostels-"albergues juveniles". "Hostales" are typically budget hotels.)