Free Things To Do in Stockholm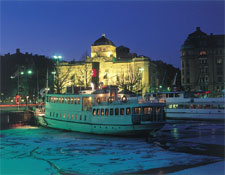 Free attractions in Stockholm? They do exist. Plus, the Stockholm Card provides some much-appreciated discounts.
Discounts
This expensive town needs every discount it can get! The Stockholm Card gives buyers free entry to 75 attractions, free city parking in metered spaces, sightseeing by boat and travel on public transport; all free, free, free. Little people cards are more than 50% off for children accompanying an adult who are under 18. A maximum of two children's cards per adult card is the rule. Children, students and seniors get discounted entrance to most museums and sights. Therefore, before buying, make sure the following prices are worth it for you:

24-hour card: 395 SKK
48-hour card: 525 SKK
72-hour card: 615 SKK
Free Attractions
The Changing of the Guard at Kungliga Slottet, The Royal Palace, takes place in the outer courtyard at 12:15 PM Monday-Saturday and 1:15 PM and on Sundays and public holidays.
The Royal Cathedral of Sweden, consecrated in 1306, is the home of the famous St George & the Dragon sculpture and free to see.
The Kungstradgarden is the public park and where all the locals gather to ice-skate in winter and see shows at the outdoor stage in summer. Restaurants and kiosks serve food, so dig in.
Across the bridge by the Nationalmusuem, in Skeppsholmen, are two museums with free admission. The Moderna Museet has a world-class modern art collection as well as an outdoor sculpture garden. Adjacent to the Moderna is the Arkitekturmuseet. It is located in a gorgeous building showing off Swedish and international architecture.