Stockholm City Information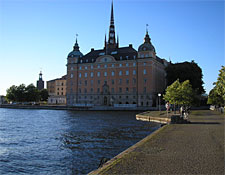 Stockholm is scattered among various islands. Study up on the geography to make getting around easy.
City Layout

This Scandinavian city is made up of lots of little islands and lots of little boats, some of them with sleeping quarters. Gamla Stan, the old town, is the center of the city and an island onto itself, jammed with churches, statues and palaces as well as restaurants, jazz bars, and stores. The Sodermalm, just south of the Gamla Stan across the water, is a neighborhood on the rise with a happening nocturnal scene. 

Hostel Overview

Walk on water through maritime Stockholm, a series of islands, parks, and alleys. There is no shortage of hostel options, and they're scattered all over the place. Basically, if you can't find a hostel that pleases you here, you're hard to please. Choose between the bustling, hip center, the convenient, cheap train station neighborhood, or the peaceful, beautiful outskirts of town. We're happy to report that Stockholm doesn't care too much for curfews, meaning that you can party all night before floating off to sleep...