Stockholm City Transportation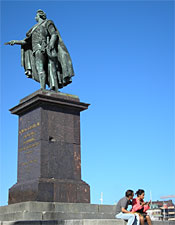 You can easily walk from one island to another, though the bus, t-bana, and ferry provide transportation as well.
Walking
The easiest way to get around this city is by walking. It takes about 25 minutes to get across the city on foot.
T-bana, Bus and Ferry
If you don't want to walk, then the quickest way around town is via the metro or T-bana (which runs off of three lines). Buses are less direct. Ferries are perfect for getting to the central islands. The Stromma Kanabolaget ferries operate between Nybroplan and Djurgarden. They run daily mid-May through mid-August and weekends and holidays from April through mid-May and from mid-August to September.
More information in English at: www.stockholmtown.com.
T-bana, Bus and Ferry Tickets
One hour: SEK 20, 10 reduced

One-day: SEK 100, 60 reduced

One week: SEK 260, 130 reduced

16-strip ticket: SEK 180, 110 reduced

One-way ferry: SEK 35

Round trip ferry: SEK 60
Visit the official Stockholm transportatiom site to learn more: www.sl.se
Boat
Waxholmsbolaget runs boats all year between Djurgarden and Slussen.
Boat Tickets
One way: SEK 30, 20 reduced
More information at: www.waxholmsbolaget.com
Bikes
Stockholm has an extensive network of bicycle paths. While city kiosks provide free maps of all cycle routes, it's almost unnecessary (and a bit comical) to use them. The maps, hard to decipher, could double as Jackson Pollack paintings and are difficult to follow. Djurgardsbrons Sjocafe, by the bridge to Djurgarden, rents wheels. Cykel & Mopeduthyrningen, by the OK-Q8 gas station, rents both city bikes and mountain bikes.
Djurgardsbrons Sjocafe Rates
Per hour: SEK 65

Per day: SEK 250
Cykel & Mopeduthyrningen Rates
City bike per hour: SEK 60

City bike per day: SEK 220

City bike per week: SEK 1000

Mountain bike per hour: SEK 80

Mountain bike per day: SEK 250

Mountain bike per week: SEK 1200
Airport
Airport information at: http://www.skavsta-air.se.
Note: All prices were accurate when compiled. Please check the Web sites listed for the most up-to-date information.