Helpful Information: Prague
We've gathered the best links about Prague to make your trip-planning that much easier.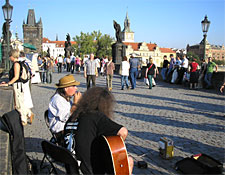 Official Website: The City of Prague
You'll enjoy this fitting homage to the Old Town.
Dopravni Podnik
The name might not give it away, but this is where you find out everything about Prague's public transportation.
Prazska Informacni Sluzba
The web cam on Prague's home page is pretty cool.
National Museum Prague
This big old National Museum has a beautiful web site.
Czech-English dictionary
Say what?Czech out what the locals are saying with the help of this online dictionary.
Czech Nightlife Find out what's happening in Prague after the sun goes down.
The Prague Post
An official site for the main English-speaking paper in Prague.
Czech Techno If it's a party you're after, visit the official listing site for Czech techno parties here.