Prague City Information
Read our short guide to the layout of Prague to make things easier when you arrive in town.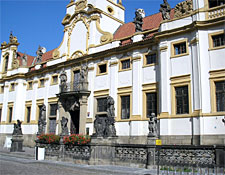 City Layout

The Vltava River bisects Prague into an eastern region and a western region. To the east you'll find Stare Mesto (Old Town) and Nove Mesto (New Town), and to the west you'll find Hradcany (Castle District) and Mala Strana (Lesser Town).

If you're looking for the center of town, head east toward Stare Mesto, where you'll find the Old Town Square (home to Prague's famous Astronomical Clock). Most tourists spend the bulk of their time here, enjoying the area's many shops, bars, and restaurants.

Head south of Stare Mesto and you'll hit Nove Mesto, New Town (though still ancient by most standards). Picturesque streets mix with larger traffic thoroughfares, and a reliable and inexpensive public transit system makes sleeping here a good choice for travelers on a budget. In fact, most spots in Nove Mesto are less than twenty minutes away from Old Town Square via subway or bus.

Travel west across the Charles Bridge from Stare Mesto and you'll enter the hilly, more romantic, and slightly less crowded western region. The winding, steep streets of Mala Strana are packed with dreamy-eyed lovers, and, not surprisingly, more pricey hotels. Head further west to Hradcany (Castle District), and voila! you'll find the gem of the west, the glorious Prague Castle. 

Hostel Overview

The "city of a hundred spires" has a hundred hostels to match. If your idea of traveling is to mix with fellow backpackers, then stick to the town center where the setting is priceless and the price, at around $10 a night, is a steal. The more adventurous can head out of town into the hills and mix with the local students for only a few dollars. But keep your eyes open and your valuables in sight, as shady situations do occur.