Prague Hostels: What You Need to Know
We break down Prague's hostel scene by answering some common questions.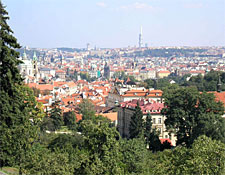 By HUNTER STUART 
Q. What is the Prague "hostel scene" like?
A. As in most European cities, the Prague hostel scene ranges from the very social to the very quiet. If you're looking for somewhere fun to meet other travelers, you might try the Travelers' Hostel Dlouha, right in the dead center of the action. Not only is the Dlouha down the street from Prague's huge Roxy nightclub, it has its own bar on the top floor of the hostel, complete with TV, foosball table, and jukebox.
On the other hand, if your priorities are to sightsee and not to socialize, and you just need somewhere quiet to rest at the end of the day, check out the River Bank Hostel, located a short walk south of the center. The River Bank places a high value on their guests' comfort – there are no bunk-beds, rooms are spacious, and there are even female-only dorms. This is a famously quiet hostel, and so small there's no round-the-clock reception. (Make sure to let them know ahead of time when you plan to arrive!)
Q. How much do hostels in Prague cost?
A. Thankfully, even though the Czech Republic has been a member of the EU since 2004, the controversial Euro has yet to be the official currency. Among many things, this means Prague hostels are comparatively CHEAP. You may want to take this opportunity to treat yourself to something a little nicer than what you're used to getting from European hostels. One night's stay in a mixed dorm in Prague costs around $12. The Chilli Hostel, near the Vltava River in south-central Prague, rents beds for as low as $8 a night.
Private doubles usually run about $40 a night, or $20 per person (check out the Hostel Elf in gritty Zizkov for affordable doubles). It's not too difficult to find a hostel that offers private singles, either. It's almost like being in a real hotel, except you're paying half the price! Try the centrally-located Midtown Hostel Prague for single rooms that are just $25 a night.
Q. What do I get for my money?
A. Like most European hostels, Prague hostels almost always have phone and internet service (free or for a small charge), TVs, DVD players, cafés or bars, storage lockers, common rooms, English-speaking staff, city maps and guides, and laundry and kitchen facilities. Unlike many other cities, however, Prague's hostels don't always include breakfast in the price of a bed. But they usually do include sheets and towels, so there are no extra fees hiding in the linens.
Q. What are the cancellation policies?
A. When you book through europeanhostels.com, hostels will keep your 10% deposit (paid when making a reservation) in the event of a cancellation or no-show. Additionally, hostels may charge for the first night if you cancel within 72 hours of check-in.
Q. What else can I expect to find at a typical Prague hostel?
A. Still can't decide where to stay? See if some of these perks make your decision clearer.
• The Boathouse hostel is located in the kind of massive park you only find in Prague, with amazing views of the Vltava. Boathouse staff treat their guests like family, or like campers – there are homemade dinners every night, and bonfires during the summer.
• The Aparthouse 20 offers private apartments right on Wenceslas Square (the epicenter of Prague commerce). Small studios can accommodate one to three people, and if you're traveling with a group of friends, there are also apartments available for four to seven people, complete with private kitchenettes.
• Miss Sophie's hostel, located smack in the center of the Nove Mesto, goes above and beyond most hostel expectations. Indeed, Miss Sophie's is more like a boutique hotel: staff are uniformed, rooms are sleek and modern, and there's a trendy lounge in the refurbished basement. Plus, their blazing hot, pressurized showers feel like a spa-treatment. In keeping with its progressive attitude, Miss Sophie's is an all-around no-smoking establishment.
• The Czech Youth Hostel Association (CzYHA) is a non-profit membership organization that runs five hostels in the city of Prague. All have 24-hour reception.
• The 132-bed Extol Inn Youth Hostel (north of the center in the Holešovice neighborhood) has probably more than you need, including a 100-seat restaurant, conference rooms with Broadband, a fitness room with sauna and Jacuzzi, and five categories of rooms from "Economy" to "Luxury." You can definitely find a lot of cheaper places to stay in Prague, but the Extol Inn is a solid bet with a fantastic buffet-style breakfast every morning.
• The 60-bed Hostel Downtown, true to its name, features a more central location than the Extol Inn, right near the National Theater in Prague's Stare Mesto. The Hostel Downtown is a little short on security (they need to update their door locks) and character (it's a little dreary), and also gets spotty results at best in the category of staff affability. That being said, the hostel is very clean, in a superb location, and includes free internet.
• The 56-bed Pension Beta is near the Vysehrad castle, a short tram or train ride from the city center, and in the vicinity of some of Prague's largest parks. Like most YHA hostels, the Beta isn't the most vibrant hostel in the city. But it's affordable, quiet, and they rent bicycles.
• The 120-bed Hostel Advantage is located in Prague's bustling Nove Mesto, so you can walk nearly everywhere you need to go. Like its sister hostels in the CzYHA, the Advantage is a little drab. But there's free breakfast, free internet, and friendly, helpful staff. There's a guest kitchen available, and a restaurant serving Czech food.
• The 164-bed Traveller's Hostel Dlouha (see above) is the best of the lot as far as official youth hostels are concerned. The Dlouha is a short walk from Prague's Old Town Square, in the center of the historic sites and a plethora of restaurants, bars, cafes, and clubs. (Don't worry, they have double-glazed windows to keep out all that street noise!) The Dlouha offers en-suite singles, doubles, triples, and dorms of all sizes. There's internet access, breakfast included, a bar, a guest kitchen, laundry services, and twenty-four hour reception.
Q. Where are most Prague hostels located?
A. Most desirable hostels in Prague are located either in or near the Stare Mesto and Nove Mesto (Old Town and New Town). You probably won't need to ride the trams or subways if you stay at one of these. Anything anywhere close to Wenceslas Square is considered a central location.
Don't overlook hostels that may look distant from the center on the map, however. While they may appear to be pretty far "out there," many (like the Hostel Elf in the former Communist stronghold of Zizkov, or the Czech Inn in tree-lined Vinohrady) are in thriving, vibrant neighborhoods of their own. In addition to Zizkov and Vinohrady, any hostels listed in Vyšehrad, Mala Strana, or Karlin are worth checking out for character alone. Don't be sucked in by tourist traps simply because they're next to the Charles Bridge!
Q. Do Prague hostels have curfews?
A. Some of the hostels in the more residential areas of Prague do have curfews for their guests, but most of the city hostels do not. A hostel's property description will always tell you whether or not they impose a curfew.