Copenhagen City Information
Before you book your hostel for Copenhagen (and certainly before you arrive in town!), it's best to understand how the city is organized and how the hostels are situated. Here's a quick look...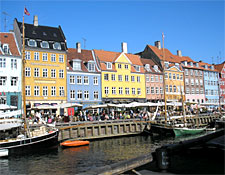 City Layout 

Packed in neatly between the city's harbor to the east and a row of lakes and parks to the west, you'll find Copenhagen's central area, the hopping Stroget. This mile-long pedestrian thoroughfare morphs through several names-Frederiksberggade, Nygade, Vimmelskaftet, Amagertorv, and Ostergade-and generally runs east to west. Follow Stroget east and you'll hit Kongens Nytorv (King's Square), the Royal Theater, and Nyhavn, Copenhagen's bustling café and restaurant Mecca. Head north of Nyhavn, to the "New Town", and you'll be sure to run into the gorgeous Amalienborg Palace. Head west on Stroget and you'll be heading towards the vast Radhuspladsen (Town Hall Square) and, go figure, the Radhus (Town Hall) nearby. For those seeking adventure and action, take Vesterbrogade west to Tivoli amusement park. For those seeking quiet, pass Tivoli and head further west on Vesterbrogade to the residential area, Frederiksburg, where you find quant cafes, shops, parks, and B&Bs. If you want museums and castles go to the small island of Slotsholmen, a few blocks south of Stroget. Here you'll find the Christiansborg Palace, the National Library, and lots of museums. 

Hostel Overview 

Copenhagen offers more than just your childhood fairytales. The city's up-and-coming nightlife and progressive cosmopolitan nature lend a youthful vibe to this Danish city. For this reason hostels in Copenhagen are plentiful and varied, though many are open only during the summer months. Some hostels are central and some are in the city's outskirts, though those closest to the center tend to be very large and lively. As always, it is wise to book ahead, especially during the annual Roskilde Festival in July.